We've teamed up with award-winning child nutritionist Annabel Karmel to help busy mums keep their kids healthy and hydrated this back-to-school season!
If you've already hit a lunchbox lull, check out these five simple lunchbox combinations, which are packed to the brim with goodness.
From sushi sandwiches to power oat bars, these easy recipes offer something that even the fussiest of eaters will love.
And don't forget to pair these lunchtime stars with our non-spill Kids bottles, easy for little hands to hold to keep them happy and hydrated till home time.
Which one will you make?
MONDAY
BAKED VEGGIE FRITTATA WEDGES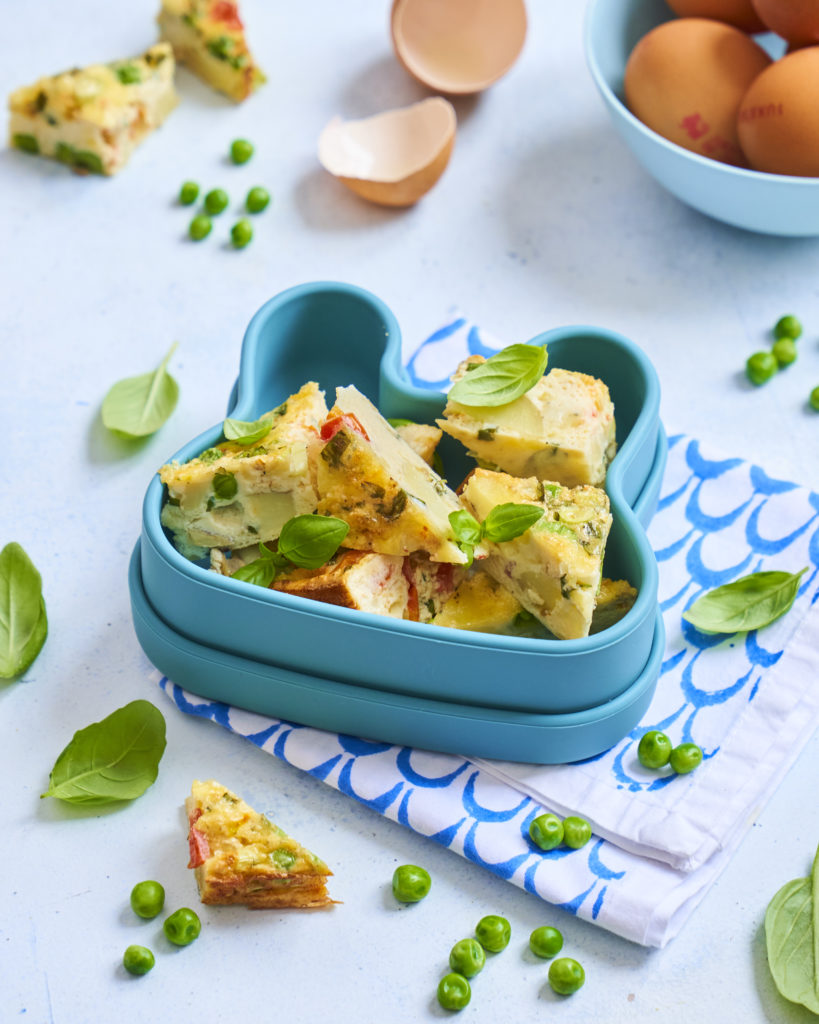 Kids' energy levels flagging?  Here's my oh-so-simple frittata recipe. Eggs are packed with natural goodness and make for a cracking lunchtime boost.
Prep: 15 mins
Cook: 25 mins
Makes:16 wedges 
Ingredients
125g new potatoes
5 large eggs
2 tablespoons milk
65g Cheddar cheese, grated
1 tbsp basil, chopped
50g frozen peas
100g tomatoes, chopped
Method
Preheat the oven to 180 Fan. Grease and line a 20 cm square tin.
Cook the new potatoes in boiling water. Drain and roughly chop.
Beat the eggs and milk together in a mixing bowl. Add the cheese and basil. Add the pea, potatoes and tomatoes and lightly season.
Pour into the tin and bake for 20-25 minutes until set and pale golden.
Leave to cool, remove from the tin and slice into small triangles.
NUT-FREE ENERGY BALLS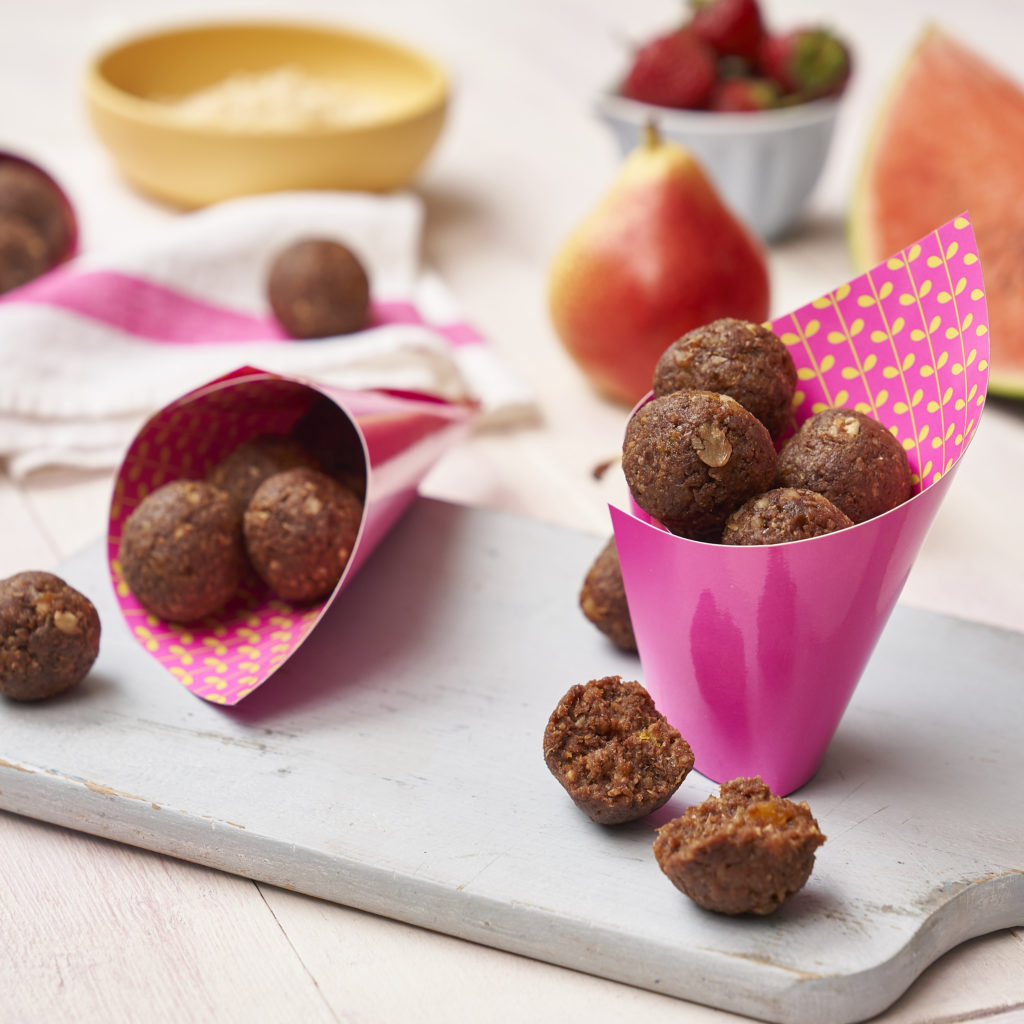 These no-bake energy balls are nut-free, gluten-free, and dairy-free. They are a great lunch box snack for kids or grown-ups.
Ingredients
125g pitted soft dates, chopped
100mls boiling water
50g desiccated coconut
20g cocoa powder
40g pumpkin seeds
20g sunflower seeds
50g raisins
3 tbsp maple syrup
Method
Put the dates into a bowl. Add the boiling water and soak for 10 minutes.
Drain the dates (reserve the liquid) and place the dates into a processor.
Blend until smooth. Add the remaining ingredients including the reserved liquid.
Process until finely chopped. Roll into balls and coat in extra cocoa and coconut.
Chill for 1 hour.
TUESDAY
CHICKEN NOODLES WITH GINGER DRESSING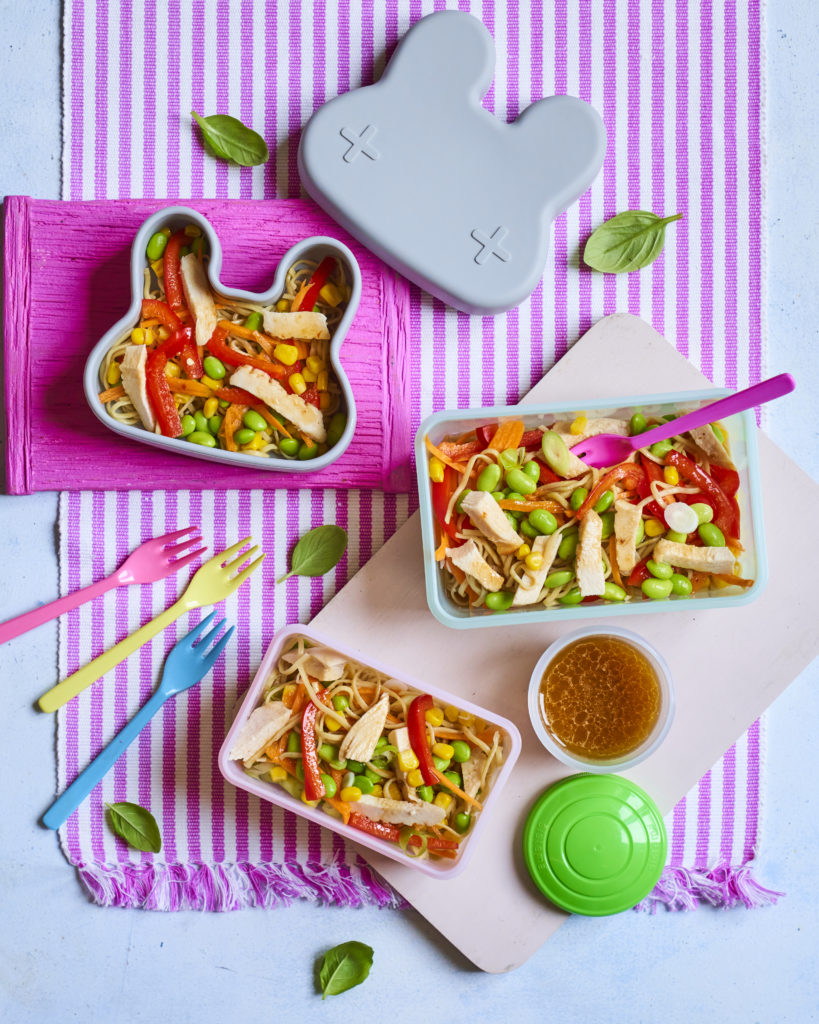 Kids' love oodles of noodles, so why not make last night's leftovers into a colourful cold noodle salad. This recipe is quick, nutritious, and packed with colourful veggies.
Prep: 10 mins
Cook: 15 mins
Makes: 4 portions
Ingredients
125g medium egg noodles
100g soya beans
1 red pepper, sliced
1 carrot, peeled and thinly sliced into thin strips
4 spring onions, sliced
75g sweetcorn
100g cooked chicken, sliced into strips
Ginger Dressing
6 tbsp olive oil
1 tsp sesame oil
2 tsp rice wine vinegar
2 tsp honey
2 tsp soy
2 tbsp sweet chilli sauce
1 tsp grated fresh ginger
Method
Cook the noodles in boiling water according to the packet instructions, drain and refresh under cold water.
Cook the soya beans in boiling water for 4 minutes, drain and refresh under cold water.
Mix the noodles, soya beans, pepper, carrot, spring onions, sweetcorn and chicken together in a bowl. Measure the dressing ingredients together in a small jug.
Whisk well. Pour the dressing over the salad before serving.
WEDNESDAY
CHICKEN & VEGGIE STARS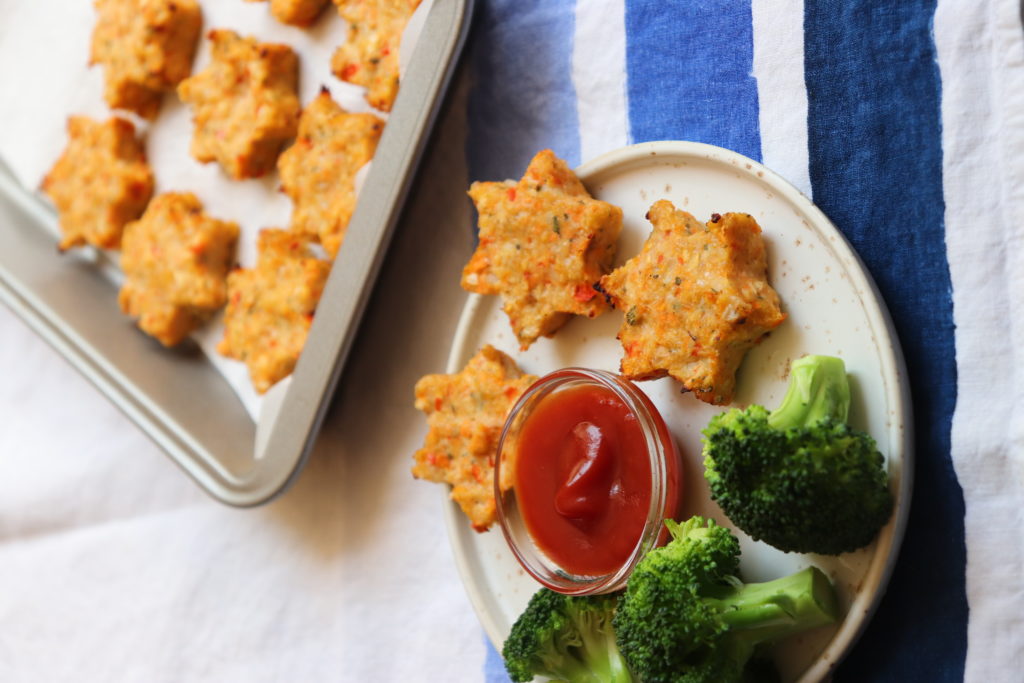 For tots and tweens, chicken nuggets are life, right? For a healthy, even tastier version, my Chicken & Veggie Stars make for the perfect healthy hot teatime treat or cool school fuel.
Prep: 20 mins
Cook: 18 mins
Makes: 18 stars
Ingredients
300g minced chicken thigh
½ red pepper, finely diced
½ carrot, grated
½ onion, finely chopped
½ apple, grated
40g Parmesan cheese, grated
30g Panko breadcrumbs
1 tbsp fresh sage, chopped
Method
Preheat the oven to 180C Fan. Line a baking sheet with non-stick paper.
Measure the ingredients into a food processor. Whiz until finely chopped.
Place a small star cutter on the baking sheet, Fill the star cutter with some of the mixture. Press down to make a neat star, then remove the cutter and repeat.
Bake in the oven for 15 to 18 minutes until lightly golden brown and cooked through.
POWER OAT BARS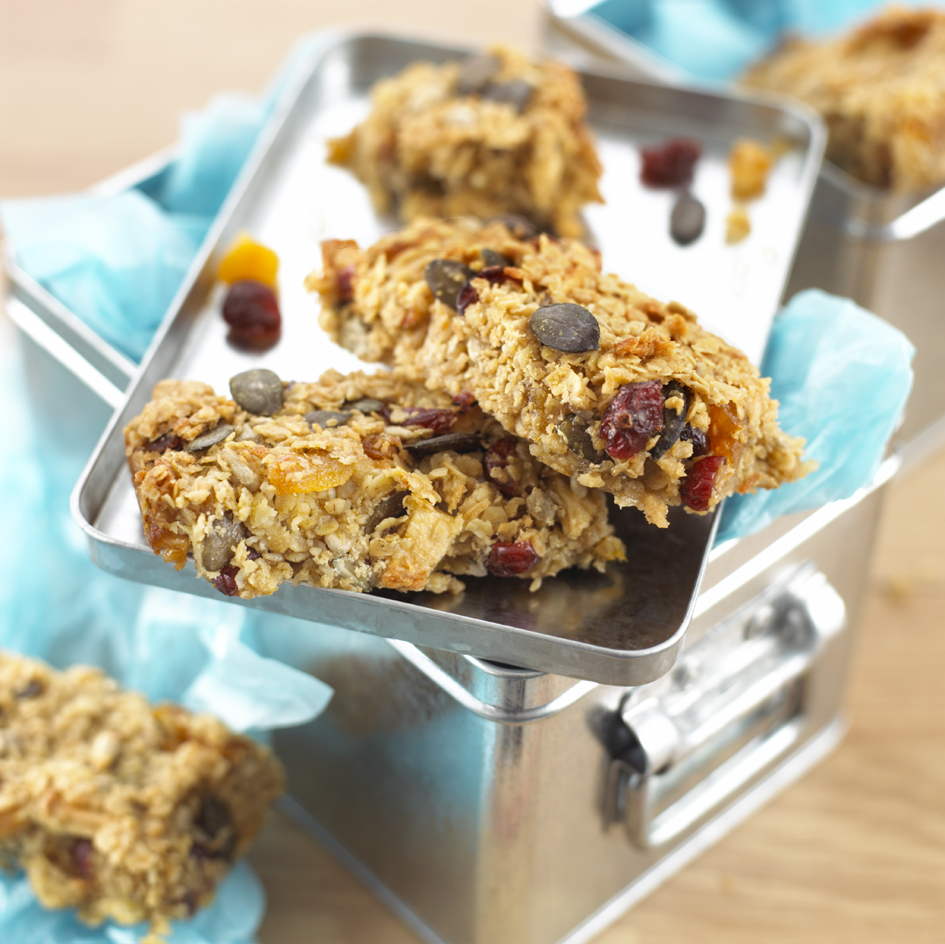 These healthy bars are bound to give your little learner a boost. Packed with oats and seeds, this is one of my favourite ways to pack goodness into an easy-to-eat format.
Vegan, egg free
Prep: 10 mins
Cook: 20 mins
Makes: 8 bars
Ingredients
80g butter or non-dairy alternative
60g brown sugar
4 tbsp golden syrup
½ tsp salt
130g porridge oats
35g chopped, dried apple
35g chopped, dried apricots
25g dried cranberries
25g pumpkin seeds
2 tbsp sunflower seeds
25g desiccated coconut
Method
In a saucepan, melt together the butter, sugar, golden syrup and salt.
Mix all the dry ingredients together in a bowl and stir in the butter and syrup mixture.
Line and grease a 20cm square baking tin. Spoon the mixture into the tin and press down to level the surface (try using a potato masher to make it easier).
Bake in an oven preheated to 180°C for 18 to 20 minutes.
Store in the fridge and cut into bars before serving.
THURSDAY
SUSHI SANDWICHES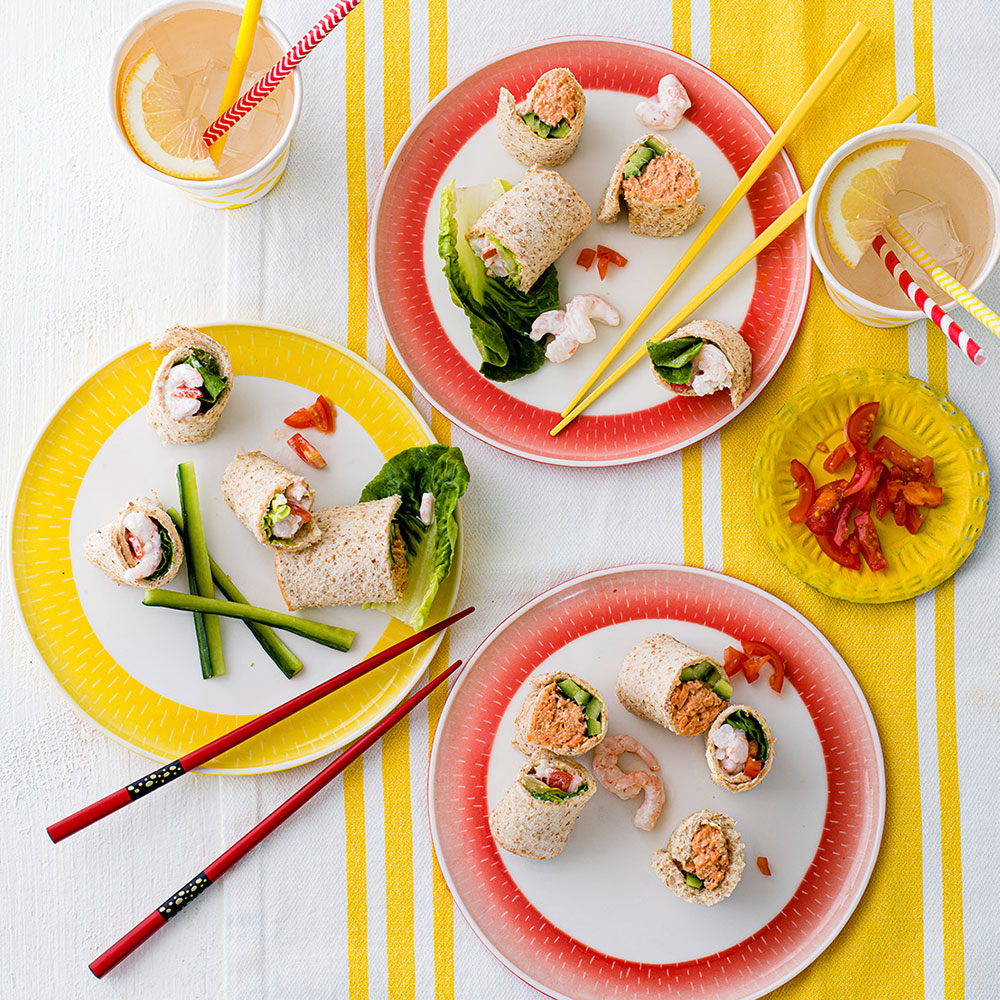 Roll up, roll up! My sushi style sandwich rolls will have your little learners longing for the lunch bell to ring! Salmon is a good source of essential fatty acids for brain development, so it's a packed lunch powerhouse.
Prep: 8 mins
Makes: 6 sushi rolls
Ingredients
2 slices of bread
1 x 80g tin of flaked salmon in spring water
2 tbsp mayonnaise
1 tbsp sweet chilli sauce
6-8 batons of cucumber cut into 5cm strips
2 tbsp grated carrot
Method
Put the two slices of bread onto a board and remove the crusts.
Using a rolling pin, flatten the bread until about 5mm thick.
Mix the flaked salmon together with one tablespoon of the sweet chilli sauce.
Divide the mayonnaise between the slices of bread and then spoon the salmon along one side of the bread leaving a 1cm border.
Arrange the cucumber strips and spring onion in a line above the salmon.
Roll up from the salmon end and press down to seal.
Trim the ends to neaten using a sharp knife, then cut into three sushi rolls each.
CHEESE & TOMATO MUFFINS
After a busy morning, hungry (or should we say 'hangry') tums will snap-up my savoury little muffins. Batch cooking at its best!
Prep: 20 mins
Cook: 25 mins
Makes: 12 muffins
Suitable for freezing
Ingredients
225g self-raising flour
1 tbsp chives, snipped
1 tbsp basil, chopped
5 spring onions
70g mature Cheddar cheese, grated
20g Parmesan cheese, grated
10 cherry tomatoes
1 large egg
200ml buttermilk
75ml sunflower oil
Method
Preheat the oven to 180C /350 F / Gas Mark 4. Measure the flour, chives, basil, spring onion and cheeses into a bowl. Season with a little pepper.
Mix the egg, buttermilk and oil together in a jug.
Add the wet ingredients to the dry ingredients and gently mix.
Line a 12-hole muffin tin with paper cases and spoon in the mixture to each. Top with the chopped tomatoes.
Bake for 25 minutes until lightly golden.
Cool on a wire rack.
FRIDAY
SUPER ORZO PASTA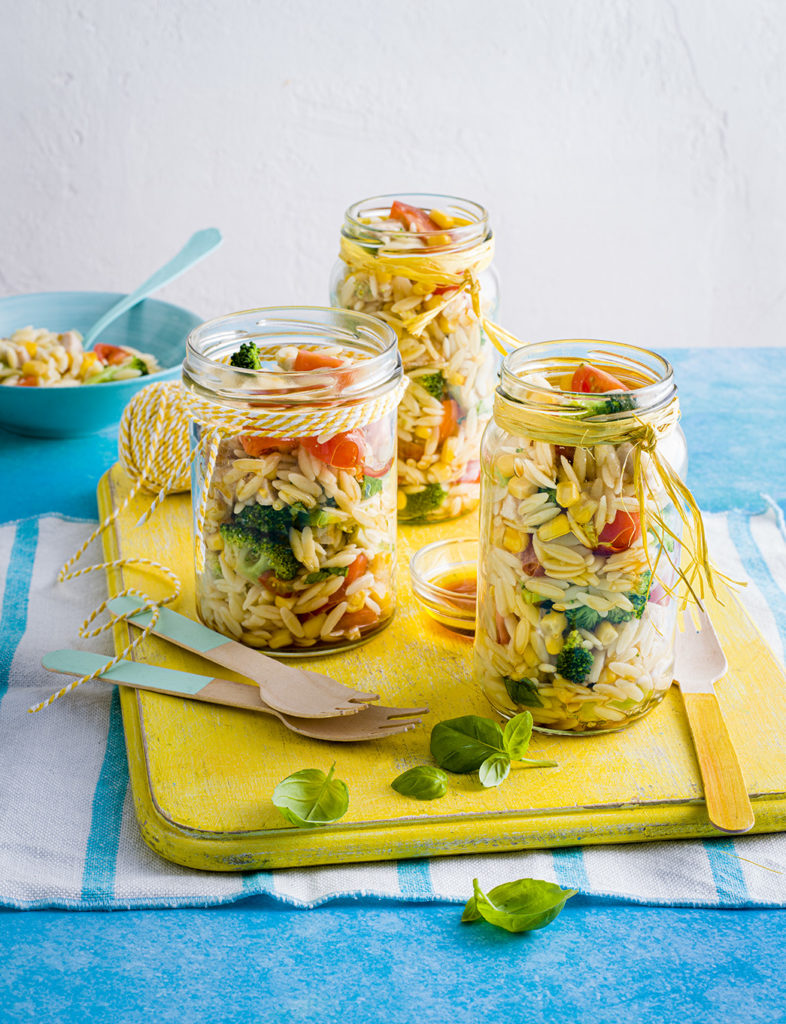 Feeling the sandwich slump? Rev up their lunchboxes with my quick and healthy orzo medley. You can also make this as a main meal and save the extras for their packed lunches.
Prep: 15mins
Cook: 12 mins
Makes: 4 small portions
Ingredients
125g orzo pasta
75g broccoli
100g cooked chicken
150g tinned corn
100g cherry tomatoes, halved
2 tbsp fresh basil, chopped
Dressing
4 tbsp light olive oil
1 ½ tbsp rice wine vinegar
1 tbsp soy sauce
1 tbsp honey
Method
Cook the orzo pasta in lightly salted boiling water according to the packet instructions.
Add the broccoli for the final 4 minutes of the cooking time. Drain and refresh in cold water.
Place the pasta, broccoli, chicken, sweetcorn, tomatoes and basil in a mixing bowl.
To make the dressing, combine all the ingredients in a small container and shake together.
Put the dressing into small separate container in the lunchbox.
YOGURT, BANANA & CARROT LOAF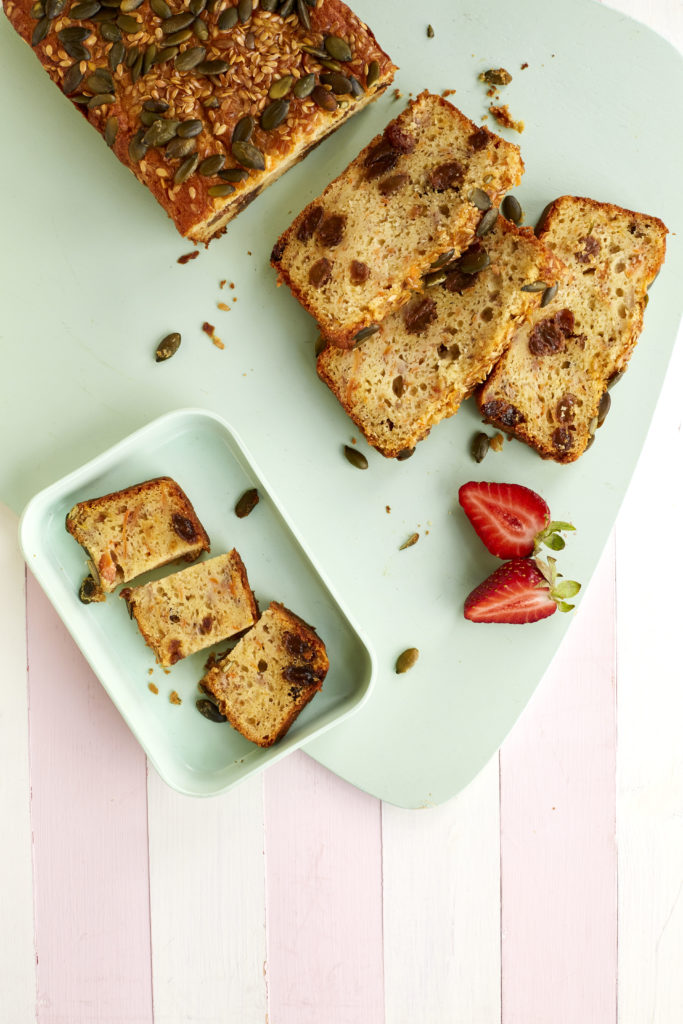 This recipe is the perfect energy boost, and a great way to use up those over ripe bananas. Making this recipe is also a great after school activity for your keen little bakers.
Prep: 15 mins
Cook: 55 mins
Makes: 1 loaf
Suitable for freezing
Ingredients
75g unsalted butter (room temperature)
50g caster sugar
2 eggs
140g self-raising flour
1 tsp baking powder
75g natural yogurt
1 small ripe banana, mashed
100g carrot, peeled and grated
100g raising
1 tbsp flax seeds
2 tbsp pumpkin seeds
Method
Preheat the oven to 180C (fan 160C). Grease and line ta 900g loaf tin with baking paper.
Put all the ingredients except the raisins and seeds into a bowl. Whisk until light and fluffy. Stir in the raisins. Spoon into the tin and sprinkle with seeds.
Bake for 55 minutes until well risen and lightly golden. Insert a skewer into the centre to make sure it is cooked – it should come out clean.
Leave to cool in the tin for 5 minutes, then turn out and allow to cool on a wire rack before cutting into slices.