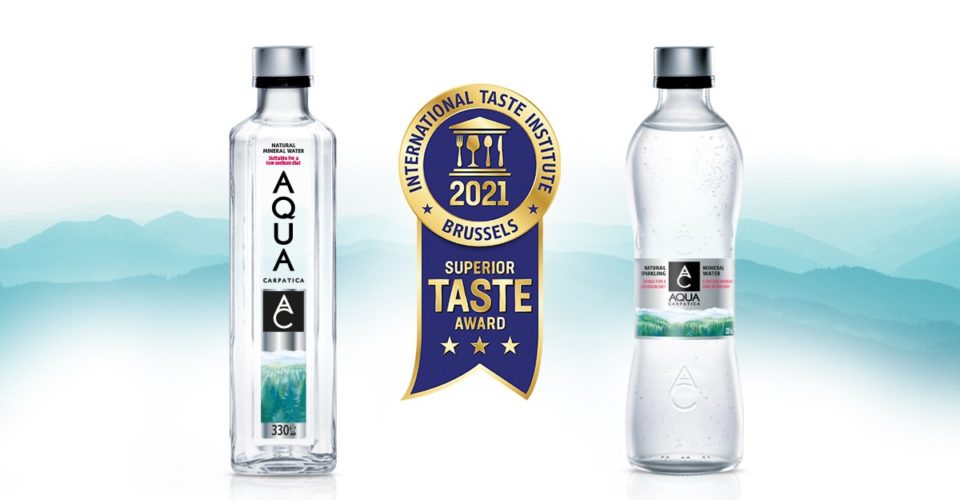 AQUA Carpatica has won numerous awards for its quality, purity and unique taste profile these include this year's prestigious Superior Taste Award 2021 from the International Taste Institute. As each year, the jury made up of Chefs and Sommeliers of the International Taste Institute has granted AQUA Carpatica's Still Natural Mineral Water and Sparkling Mineral Water with 3 golden Stars, the highest distinction possible awarded only to products that have a "remarkable taste".
This is the fifth year in a row that AQUA Carpatica gets an overall score of over 90 % for both the still natural mineral water and the sparkling natural mineral water. The products were blind-tasted to ensure an objective evaluation by a jury made up of the world's best chefs & sommeliers with specialised knowledge in tasting and sensory analysis.
Stijn Roelandt – Sous-Chef at Hof van Cleve, 3 Michelin stars – explains how he and his colleagues perform the evaluations for the International Taste Institute: "It's a strict process. The products are blind tasted; this means that the samples are anonymized: we do not see the packaging and do not know the brand name nor the producers' name; we don't even know from which country it comes. This forces us to be completely objective as we do the sensory analysis. Only truly good products are certified".
It's a great honor for AQUA Carpatica to receive this international recognition since our products have earned praise from the most sophisticated palates in the world, showing the intrinsic qualities of our natural mineral water.
About the International Taste Institute:
The International Taste Institute, founded in 2005 and based in Brussels, Belgium, evaluates and certifies the taste of food and drink from all over the world. Its jury is composed of over 200 renowned Chefs and Sommeliers from 15 European culinary or sommeliers associations. Over the years, more than 16'000 products were certified by the Taste Institute's jury which includes prestigious chefs and sommeliers such as Ferran Centelles (Head Sommelier at El Bulli Foundation), Manuel Jimenez (Best Sommelier of Spain 2017), Alain Nonnet (2 Michelin stars for 36 years), Gaetano Raguni (Winner of Italy Bocuse d'Or 2017), Alan Coxon (British Ambassador for Food/Drink and BBC TV Chef presenter), or Cristina Figueira (1 Michelin Star).
The Taste Institute's performs objective sensory evaluation: its jury follows a rigorous blind tasting methodology in which product samples are anonymized to avoid any bias in the scoring. In addition to the scoring of the various sensory analysis criteria, the jury provides comments and eventually suggestions for further product improvement, or food pairing suggestions.