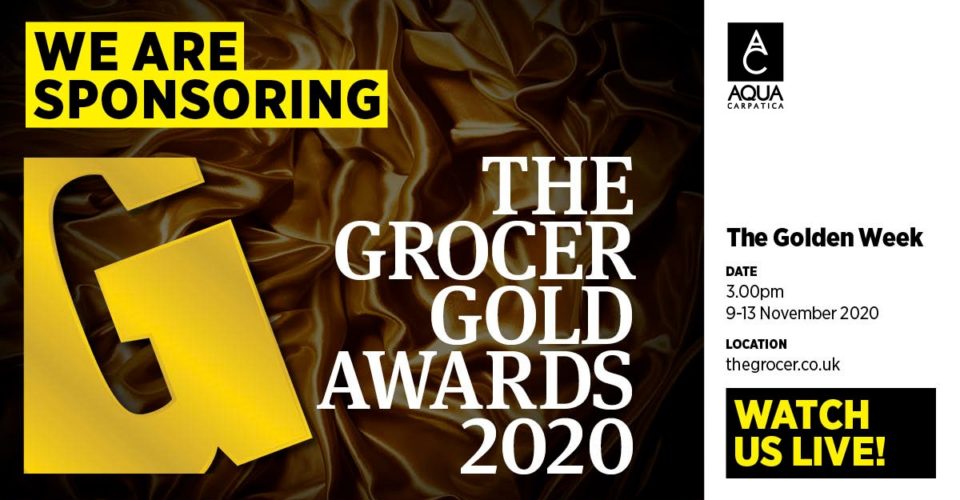 The annual Grocer Gold Awards 2020 ceremony is just around the corner and AQUA Carpatica is delighted to support the most hotly anticipated event in the grocery calendar that celebrates the extraordinary achievements of the UK grocery retail industry. The awards will be announced every day at 3pm on thegrocer.co.uk, culminating in the grand finale announcement of all winners on Friday, November 13th 2020.
AQUA Carpatica is a long-standing partner of The Grocer and of the Gold Awards, as we both take pride in being a symbol of quality and excellence- AQUA Carpatica in the natural mineral waters' sector and The Grocer in the FMCG. AQUA Carpatica is partnering up with the Grocer for the fourth time and this time it's the first ceremony to be taking place online.
In total there are 5 categories and a lineup that aims to capture the full and diverse contribution that the grocery retail, wholesale and supply sector has made since the outbreak of the pandemic. AQUA Carpatica will support the Wholesaler of the Year award.
Store Manager of the Year
Monday 9 November at 3pm
Our Store Manager of the Year Award recognises outstanding hard graft and commitment from the nation's best store managers. Each year, we select top-performing managers to represent Tesco, Asda, Sainsbury's, Morrisons and Waitrose and they go head-to-head in front of our expert judging panel to take home the title.
Factory Manager of the Year
Tuesday 10 November at 3pm
This special accolade is brand new to The Grocer Gold Awards this year and shines a light on the heroic effort taking place on factory shop floors across our nation. We asked readers to nominate the factory managers who deserve recognition for the extraordinary contribution they've made to ensure our food and drink supply has continued since the outbreak of the pandemic.
Business Initiative of the Year
Wednesday 11 November at 3pm
Overcoming the challenges that have rocked the industry this year would be achievement enough for businesses, but many have also found the time and energy to pour resource into supporting worthy causes, fostering new growth or even fighting injustice, at the same time. This award recognises the players who have gone over and above to action a positive initiative within their business, retail community or the wider grocery industry.
The Grocer Cup
Thursday 12 November at 3pm
One of the industry's most coveted awards, The Grocer Cup is given to a senior industry figure who has shown outstanding leadership in the past year. The trophy recognises innovation, integrity and vision and has been awarded to grocery champions like Tesco's Dave Lewis, Mars boss Fiona Dawson and Iceland's Malcolm Walker.
Grand Finale
Friday 13 November at 3pm
The Grocer Golds is the most hotly anticipated event in the grocery calendar. Follow along and watch the live broadcast on thegrocer.co.uk wherever you are.