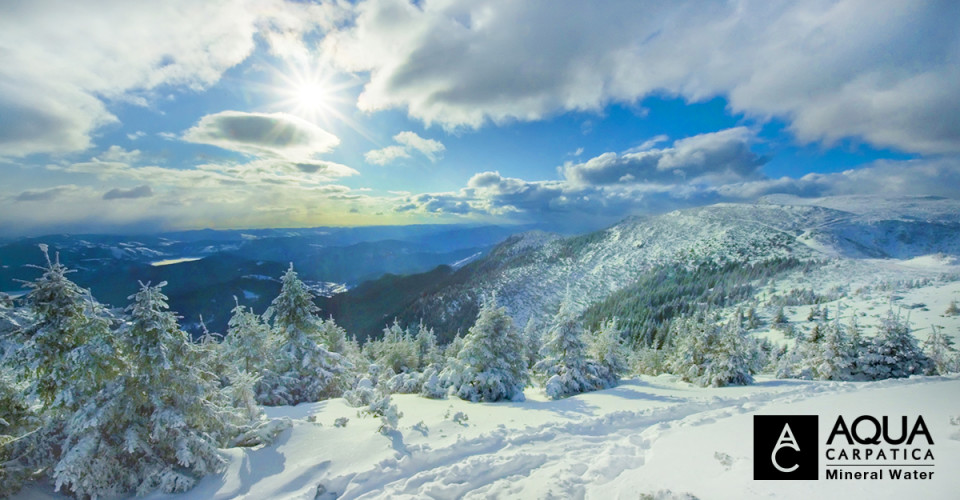 The fine quality of AQUA Carpatica comes from its unique origin. Romania's unique scenery is unmistakably defined by the Carpathian Mountains, which form Europe's last stretch of untamed forest.
AQUA Carpatica comes deep from the Carpathian Mountains, an ancient land where time seems to stand still, leaving only the pristine beauty of nature and history. Reigning supreme over the Carpathians is the Bucovina region—a land of savage landscapes, with valleys carpeted by wildflowers, strewn with ice-cold brooks jutting between majestic evergreen forests.
This is a land defined by its endless evergreen forests. Imposing firs and spruces jut skywards, with the shorter pines interspersed amid the thick undergrowth that makes for a perfect hiding place for countless deer, and the largest population of large carnivores in all of Europe, including wolves, brown bears and lynx.
There is no pollution from the surrounding area, as there is no agricultural activity there, the air is pure and fresh and the rocks in the area of the spring date back millions of years. It is the last wild forest of Europe and it's like going back to a time before chemicals, fertilizers, CFCs and other contaminants even existed.
Not all waters are made equal. We believe AQUA CARPATICA is the purest of them all.
With AQUA Carpatica, purity and taste go hand in hand. Millions of years of volcanic activity have filtered impurities at the source, endowing our water with its unrivaled flavor.
The old strata of rock in the area date back to the Proterozoic Eon. They consist of both sedimentary and magmatic rock that has undergone complex transformations. The newer strata of rock are the result of increased volcanic activity in the Călimani Mountains, having been left behind in the wake of eruptions that took place in the Neogene.
The volcanic activity of the area is the reason for naturally-occurring emanations of carbon-dioxide, giving AQUA Carpatica its distinctive sparkle.
Find AQUA Carpatica at a store near you: