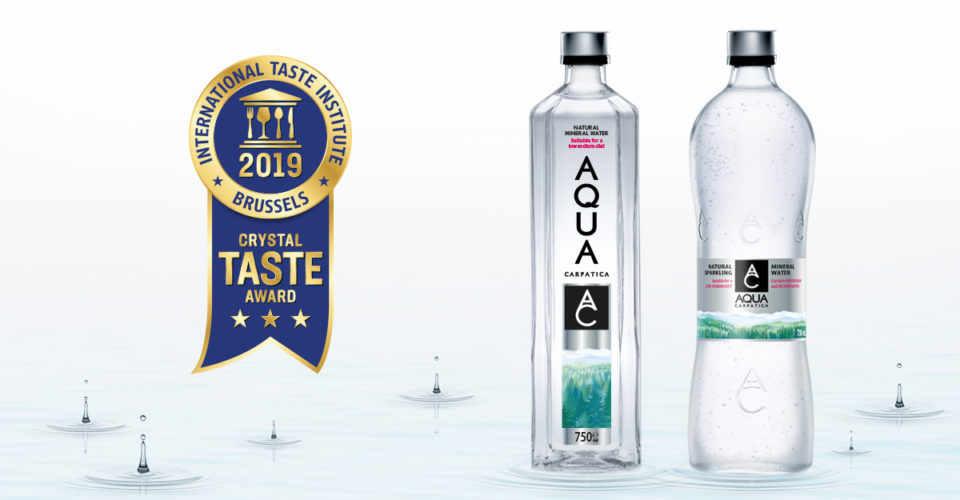 AQUA Carpatica Natural Mineral Water, Nature's Most Perfect Water, has received the CRYSTAL TASTE AWARD granted by the International Taste & Quality Institute at the 2019 annual Superior Taste Award Ceremony, held in June 24th in Brussels.
The coveted award is granted to products that have been awarded 3 stars 3 years in a row and recognizes AQUA Carpatica both Still Natural Mineral Water and Sparkling Mineral Water for their pure taste and uniqueness.
The International Taste & Quality Institute gathers each year a large panel of over 200 independent experts selected from the Association de la Sommellerie Internationale, Chefs and other highly regarded drink experts. These taste experts have been selected based on their sensory analysis expertise and international experience and are unanimously recognized talents by guides such as Michelin and Gault Millau. iTQi is the world leading organization offering food and drink product evaluation by the professional taste experts. iTQi does not organize a competition, but rewards products based on their own merits following a tasting analysis.
Blind Sensory Analysis
The products are blind-tasted, following a systematic approach based on the 5 International Hedonic Sensory criteria: First Impression, vision, olfaction, taste, texture (food) or final sensation (drinks). Products are prepared and served according to a protocol which ensures an objective evaluation. Each product is thus evaluated by each jury member in silence and without communication with other jury members and scored on its intrinsic organoleptic quality. The jury is unaware of the products' brand names, the producers' name or the origin of the products. The novelty of this scoring method resides in the fact that the products are scored and evaluated according to what's expected from a consumer product from its category.
It's a huge honor for AQUA Carpatica to receive the Crystal Taste Award since AQUA Carpatica Still Natural Mineral Water and Sparkling Mineral Water have earned praise from the most sophisticated palates in the world, showing the intrinsic qualities of its natural mineral water.
AQUA Carpatica Products Evaluation
The iTQi Sensory Evaluation includes top remarks made by the jury members during the sensory analysis on all the 5 Hedonic Sensory criteria. AQUA Carpatica Still Natural Mineral Water gathered remarks such as: "This is a very impressive product with harmonious elements and an elegant, sensitive style", "Well-structured, thirst-quenching and easy to drink" , "Beautiful crystalline appearance."
AQUA Carpatica Sparkling Mineral Water gathered numerous impressions from the jury: "Overall, an excellent high-quality product that is stylish, refreshing and enjoyable.", "A beautiful harmony of tender, delicate flavors with elegant, silky bubbles."