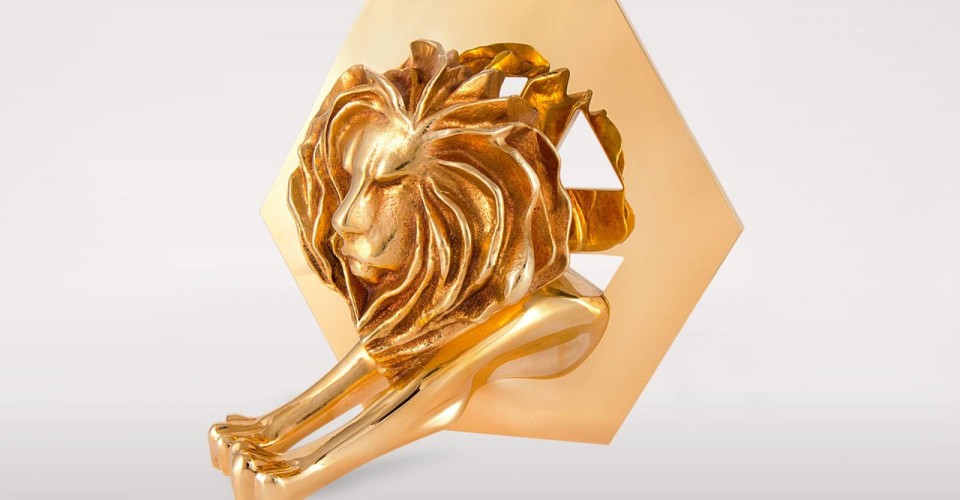 The second day of the Cannes Lions Festival brought the first gold trophy for Romania this year's edition of the most important festival of creative advertising. The PR Category was awarded last night and AQUA Carpatica won a Golden Lion for Purity Test campaign.
According to a press release of The Alternative School for Creative Thinking in Romania, this year's competition at Cannes Lions 2016 recorded an increase in the number of works entered from last year. If in 2015 Romania had 151 campaigns at the creativity competition at Cannes 2016 this year we sent France a total of 187 projects.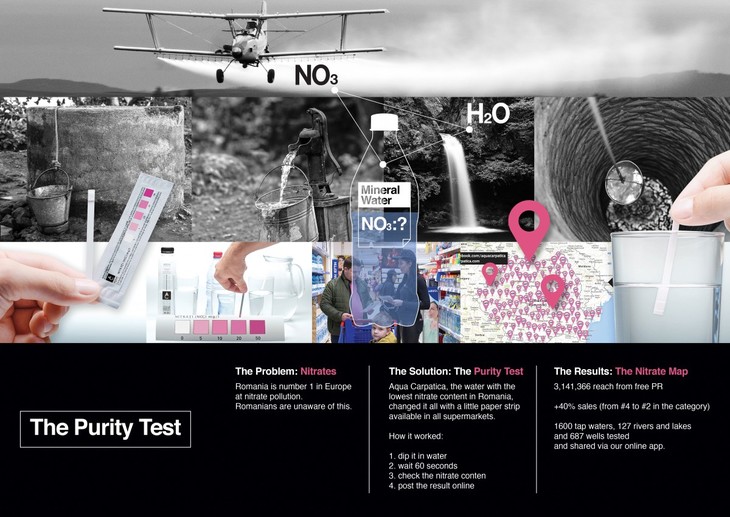 The "Purity Test" campaign was also shortlisted in the category "Promo & Activation."
The "Purity Test" was awarded with the most coveted awards in the advertising industry in the last two years: three awards at Internetics 2014: Brand Built Communities, Microsites and Digital component of year integrated campaign – FMCG – Drinks, Webstock 2014: Special Projects, Effie 2015: Grand Effie – the most important trophy in the competition, Gold Effie for the category Non-Alcoholic Beverages and a Bronze Effie category Brand Experience and FIBRA Awards 2016 (Romanian Creativity Festival) – Campaign of the Year, Grand FIBRA Promo & Activation, Gold FIBRA from Brand Activation, Gold FIBRA the Use of New Media for Direct Marketing.
The campaign "Purity Test" developed by CohnandJansen JWT for AQUA Carpatica aimed awareness of a lack of communication about the correct mineral composition of the water in Romania.
The campaign led to the mapping of nitrates in the waters of Romania and raised awareness of their harmfulness, especially for children. Case study the results of the campaign can be watched here:
The team who worked on the campaign consisted of:
CohnandJansen JWT: Creative Director – Andrew Cohn, Deputy Creative Director – Alex Negoescu, Senior Strategic Planner – Raluca Iacob, Account Director- Stoenica Arina, Account Executive – Oana McGinley, Client Service Director – Ina Simion, Digital Project Manager – Raluca Diaconu, Head of Digital Strategy – Monica Rădulescu, AV Web Designer – Cosmin Nicola, Production Director – Ilinca Dumitrescu.
From Valvis Holding: Jean Valvis- President, PR & Communication Manager Vesler- Valentina Claudia Tocila – Online Communication Manager, Menotty Tudosie – Special Project Manager, Gabriel Saftescu – Online Strategist, but with the support of all departments of the company.
About AQUA Carpatica
Carpathian Springs SA is a member company of VALVIS Holding since 2005. The company is the object of bottling and distribution of natural mineral water Aqua Carpatica and is on the market since 2010. AQUA Carpatica was launched on the Romanian market in late 2010 as operation greenfield investment and the successful launch sales performance and outstanding reputation.
About Cohn & Jansen JWT
At Cohn & Jansen JWT things we like to go back on all sides and come up with ideas always fresh, relevant and effective. We like to surprise and our proposed solutions are always detached from reality. We are pragmatic alternative connect to everything new and inventive. Find us on www.cohnandjansen.ro on Facebook.