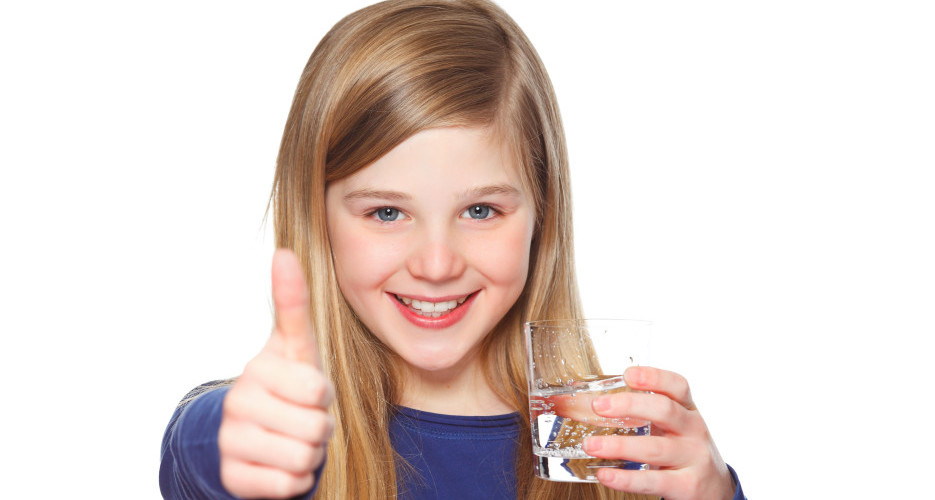 Both what we eat and drink can affect our dental health. Around one in three adults have some degree of tooth decay, and only ten percent of adults have 'excellent' oral health. This is defined as having 21 or more natural teeth, 18 or more sound and untreated teeth/ roots and no decay or calculus (a form of hardened plaque or bleeding). Certain behaviours such as regular brushing can associated with better dental health.
Dental erosion is the loss of tooth enamel caused by acid attack. Enamel is the hard, protective coating of the tooth, which protects the sensitive dentine underneath. When the enamel is worn away, the dentine underneath is exposed, which may lead to pain and sensitivity. Natural salts in your saliva cause the enamel to 'remineralise' and harden again. Saliva is around 99 percent water, so drinking water is important for its production. In fact, when we become dehydrated this can affect the concentration of saliva (osmolarity).
When looking at our dental health, water (still or sparkling) is an excellent drink of choice as it is sugar-free.
Drinks with high sugar or acidic content should be limited as they could increase the chance of dental decay and enamel erosion.
Drinks with lower pH values tend to have higher erosive potential than those with a neutral or alkaline pH.
TOP TIPS TO SUPPORT DENTAL HEALTH
1. Drinking water is a good way to hydrate without exposing teeth to sugars.
2. Children should be encouraged to drink water from an early age, to develop a taste for water. Milk is also a good choice for children as it is a useful source of nutrients, especially B vitamins and calcium.
3. Older people who have a tendency to have reduced saliva production should be encouraged to drink water regularly.
4. Teeth should be brushed regularly last thing at night and at least one other occasion in the day, with a fluoride toothpaste.
5. Rinsing the mouth with water in between meals may help to remove food debris which could otherwise contribute to dental decay.
6. Night time tooth brushing is especially important as saliva production slows down through the night.
Eating and drinking foods containing sugar and acids naturally weakens the enamel on your teeth. Brushing straight afterwards can cause tiny particles of enamel to be brushed away. It is best not to brush your teeth until at least one hour after eating.
AQUA Carpatica natural spring water has a pH of 8.24 and is the best choice for keeping dental health, avoiding sugary drinks and an alkaline enviroment in your body. Adding fruit like lemon, any kind of berries or mint gives it a natural, delicate flavour without drinking juices that harm your teeth.
It also has no nitrate or sodium content, so it is also a good choice for babies and children and for older people with high blood pressure.
Info source: British Dental Foundation